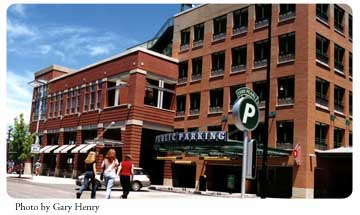 Tourism is a top industry for Boulder, Colo., and Pearl Street Mall is one of the biggest draws.
A four-block, pedestrian-only, historic preservation area at the foot of the Rockies, the outdoor mall is lined with trendy shops, galleries, microbreweries, restaurants and offices.
In 2000, the City of Boulder built a parking, retail and office building one block east at 1500 Pearl Street to help accomodate the crowds that stroll the mall each year. The building includes parking for about 700 cars on eight levels, two below grade, and 15,000 square feet of office and retail space.
RNL Design in association with Shears+Leese Architects, LLC, created a classic look for the building, to integrate it with neighboring historic structures. It's also an award-winning look -- 1500 Pearl Street has garnered several awards including an Award of Excellence from the International Parking Institute.
Masonry contractor Central Masonry of Littleton, Colo., used PROSOCO's "classic" brick cleaner -- Sure Klean 600 Detergent -- for post-construction cleandown of the brick and limestone facades.
"We always clean what we build," said Project Supervisor Mike Seubert. "We followed right behind the construction crews, cleaning each section as it went up."
The effort was aided by unusually wet spring and summer weather for the normally semi-arid climate, Mr. Seubert said.
"All the snow and rain helped us prewet the brick. That's the whole secret to a good cleandown," he commented. "When the brick is soaked, the cleaner stays on the surface where it does its job, dissolving excess mortar."
The Central Masonry crew used wire brushes to apply the cleaner to the wet bricks, then agitate it..They pressure-washed the spent cleaner and dissolved mortar and dirt off the brick.
"The 600 did fantastic," Mr. Seubert said. "It works a lot better than muriatic acid. What I like about it is that you get the same consistent results out of every 55-gallon drum."
Introduced in 1956, 600 Detergent has become the world's number-one selling proprietary cleaner for new masonry.