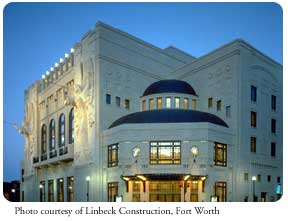 When the 58-foot-tall limestone angel sculptures at Fort Worth's Bass Performance Center dripped black grime from their elbows, the owners knew it was time to clean and protect.
City life had gradually dirtied the 10-story-high, city-block-long arts center since its construction in 1996, said Tom Hale, vice president with Linbeck Construction, Fort Worth.
Linbeck was the general contractor for Bass Hall's construction. Mr. Hale served as senior project manager for its summer 2003 maintenance cleaning and weatherproofing.
Often called "the crown jewel of Fort Worth," Bass is home to the Fort Worth Symphony, the Fort Worth Opera, the Texas Ballet Theater, and the Van Cliburn International Piano Competition.
To restore the crown jewel's appearance, Linbeck called on representatives from Houston-based Lucia Inc., the original masonry contractor; L.S. Decker Inc., an Irving-based cleaning and sealing subcontractor; and PROSOCO.
Examination revealed the grime was most likely atmospheric and biological soiling combined. The contaminants had "grayed out" the building's cream-colored limestone walls. It concentrated to black crusts at drip edges such as the angels' elbows.
Tests and cleaning with Enviro KleanŽ BioKlean(tm) proved spectacularly successful, Mr. Hale recalled. "We had no idea how dirty the building had gotten until we started cleaning. The difference just blew us away."
Workers sprayed BioKlean(tm) on at low-pressure, agitated with bushes, and let the solution dwell about 10 minutes before rinsing with fresh water at 120 psi.
Troughs made of clear plastic sheeting caught the rinsewater, spent cleaner, and dissolved contaminants as they came off the hall, Mr. Hale said. There, the liquid was vacuumed up and trucked to a licensed disposal facility.
Cleaning the angels -- and their elbows - was mostly done by hand. From the baskets of boom lifts, the L.S. Decker crews gently scrubbed the sculptures' curves and angles. They scaled back rinse-pressure to 80 psi, Mr. Hale said.
As each of the East, North and West elevations dried after cleaning, another L.S. Decker crew followed, applying Sure KleanŽ Weather Seal Natural Stone Treatment.
The breathable, penetrating siloxane water repellent is designed for marble and limestone. By keeping water out of the building's porous stone, it keeps mold and mildew from getting restarted. Since water can't penetrate the treated stone, it can't carry atmospheric pollutants into the stone pores.
In all, the sub-contractor's two 4-man crews cleaned and protected about 26,000 square feet in 41 days.
"Our workers were fantastic," Mr. Hale commented. "The city asked them to delay cleaning each day until after morning rush hour, and they had to be packed up and off-site before evening rush hour. Only total professionals could have gotten the job done in the allotted time under those conditions."