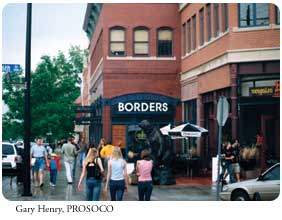 "The little town nestled between the mountains and reality," is how the Denver Post has described Boulder, Colo.
Certainly the ever-present mountains just west of town are one of the dominant facts of life for the city of 100,000. They moderate the weather, bring in the tourists, and even affect the town's architecture.
Downtown height-limits of 55 feet for buildings ensure there's always a view of nearby Green Mountain and Bear Peak from the sidewalks.
More than that, says Jay Midyette, of Boulder-based Midyette Architects PC, the downtown architecture attempts to meld Boulder's built and natural environments.
Mr. Midyette was the principal architect for what he describes as the "eclectic" retail and office property at 1600 Pearl Street. Like many of Boulder's buildings, 1600 is built of brick and stone. The durable, natural materials are a way of symbolizing continuity with Boulder's past, and the stability of the mountains, Mr. Midyette said.
Many of the bricks at 1600 don't just symbolize the past -they're from it. The western portion of the north-facing structure uses the original historic orange-brick façade of the old building that was replaced.
The red and buff sandstone trim comes from quarries of 200-million-year-old rock in Lyons, just a few miles north on Highway 36.
Workers used Sure Klean® 600 Detergent for post-construction cleandown of the building's vintage and new bricks, and sandstone, said Project Manager John Lest, of Central Masonry, Littleton, Colo. Central Masonry was the masonry contractor for 1600's construction.
As masons put up each section of brick wall, Mr. Lest said, they used 600 to clean away excess mortar, dirt, and the other inevitable soiling from a busy construction site.
"We cleaned the old-fashioned way," Mr. Lest said. "Bucket and brush it."
The crew wet down 8-foot by 10-foot sections of the walls with fresh water, then brushed on 600, itself diluted with clean water.
"We prewet the wall pretty thoroughly," Mr. Lest said. "That's one of the secrets to a successful cleandown."
After a short dwell, workers rinsed away the spent cleaner and dissolved contaminants.
"We had to do a few things differently since we were cleaning in a pedestrian area," Mr. Lest commented. His crews closed off sidewalks and diverted trafc. "Most of all, we had to be careful of wind drift. On days when it hit 20 mph, we shut down."
Still, after two weeks, all the brick and stone was up, and clean.
"I always enjoy doing work up in Boulder," Mr. Lest said. "You can't beat the view."