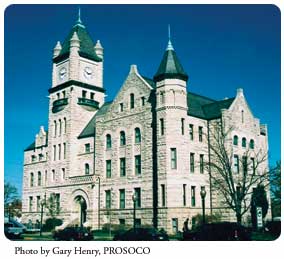 The four limestone finials atop the bell tower of the Douglas County Courthouse, Lawrence, Kan., were loose. One was almost split down the middle.
"At 250 pounds each, they wouldn't have done anyone any good if they came down on their own," commented Bill Bell, Douglas County maintenance director. "One good lightning strike is all it would've taken," he said.
Workers from Commercial Waterproofing Inc., Kansas City, Mo., discovered the precarious state of the finials during an October examination of the 100-year-old courthouse's limestone exterior.
They've since been removed. A local stonemason, Keith Middlemas, is crafting replacements.
The county contracted with Commercial Waterproofing to clean and weatherproof the aged limestone as part of an overall courthouse renovation.
The company planned to use Sure KleanŽ Weather Seal Natural Stone Treatment to protect the courthouse after cleaning, said project manager Al Hanks. "Once we got a good look at the condition of the stone and mortar, we recommended deferring the weatherproofing until repairs could be made."
Natural Stone Treatment, while providing long-term, breathable, invisible water repellency for most stone, will not compensate for gaps, cracks, open joints or other defects. Those must be repaired before application.
Repairs - tuckpointing and stone replacement --are currently being scheduled.
Meantime, Commercial Waterproofing proceeded with cleaning. In many places, the stone was only lightly soiled. But on the north elevation particularly, biological soiling ran rampant.
"No sun," Mr. Hanks explained. "The stone never gets a chance to dry out."
After testing, the company chose PROSOCO's Enviro KleanŽ BioWash to rid the stone of the dark colonies.
Workers applied the BioWash with low-pressure sprayers. In most places, a single treatment with a 15-20 minute dwell and 800 psi rinse cleaned the stone. Some areas, such as the decorative balustrade on the north elevation, took multiple applications and dwells of up to 4-6 hours.
After two weeks of cleaning in 10- by 40-foot drops, workers had completely reclaimed the building from the black stains.
"I'm very pleased with the cleaning and the way the building turned out," Mr. Bell said. "I'm especially happy with the professional way Commercial Waterproofing advised us of the problems they uncovered, even though it meant limiting the current scope of their work.
"This courthouse has stood through two world wars and 100 years," Mr. Bell said. "We want to make sure it stays up."