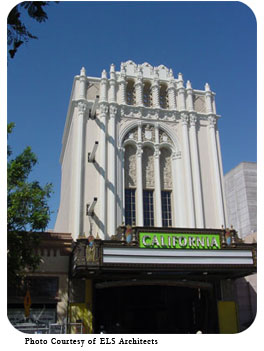 It doesn't take much to scar the appearance of a $73 million historic theater restoration project.
A can of black spray paint in the hands of a graffiti vandal is all that's needed.
That was made clear one morning late last summer, when construction workers arrived on the job at the Fox California Theater in San Jose. They found a black blotch of graffiti staring at them from 100 feet up on the back of the building. A vandal had spray painted the word – or name – "TET" in black letters 6 feet tall and 10 feet long on the concrete wall.
TET was visible for blocks until it was sandblasted off – at a cost of $5,000 and abrasion to the concrete surface.
But that type of cleaning is unacceptable for the historic limestone front and side elevations of the Fox California Theater, said Project Manager Carlos Alvarez, of ELS Architects, Berkeley, Calif.
ELS specified a protective graffiti-barrier coating so that when graffiti vandals hit, their work can be quickly removed.
Magnificent movie palace
The 77-year-old Fox California Theater was for decades the town's biggest, most ornate movie palace, ranking with the best in the film-star state. Now, it's once again slated for Roaring 20s opulence and elegance. The San Jose Redevelopment Agency, and the Packard Humanities Institute, Los Altos, Calif., are restoring, renovating and expanding the theater into a lavish performance arts facility, new home to the San Jose opera, Alvarez said.
Closed for the past 15 years, the Fox California needed restoration, said Jesse Nero, president of Pacific Coast Restoration, San Francisco. Over the decades, rain, auto exhaust and other contaminants stained and soiled its exterior. Nero's company got the job of cleaning and weatherproofing the old Indiana limestone walls.
New threat
But in graffiti, the venerable theater faces a threat that didn't even exist when it was built in 1927, Nero said. Getting graffiti out of porous masonry like the California's limestone and concrete is hard because graffiti media – paints, crayons, magic markers – even lipstick -- soak in.
Detergents, paint strippers and most other cleaners can remove what's on the surface, he explained. But graffiti that penetrates is often there for life. Getting rid of it usually involves removing the layer of concrete, masonry or stone the graffiti has penetrated, as in the abrasive cleaning to remove "TET."
To protect against hits on the limestone, ELS Architects specified, and Pacific Coast Restoration applied, a "sacrificial" protective treatment – PROSOCO's Defacer Eraser® Graffiti Barrier S.
"Sacrificial" treatments keep graffiti from penetrating porous surfaces, said Juan Mejia, the Pacific Coast Restoration worker who applied the treatment.
When the protected surface is hit, workers simply wash off the sacrificial coating, he said. The graffiti, which is on the coating, not the surface, gets washed away, too, or "sacrificed." When the graffiti is gone, the coating is replaced.
The approach is cheaper and safer than abrasive cleaning methods like sand blasting, which can damage stone, masonry and concrete," Nero said. And California environmental regulations won't permit use of harsh solvent cleaners and paint strippers.
Because the graffiti can be removed quickly and easily, the system helps prevent reoccurrence, he added.
"Modern taggers are very innovative"
Though original specs called for graffiti protection from ground level to about 10 or 12 feet up, the spec was changed to cover the entire limestone portion of the California Theater – about 15,000 square feet.
"Protecting only the first 10 or 12 feet of a building or wall is pretty typical," commented Nero. But modern taggers are very innovative. "They'll go to any height."
He pointed out that "TET" appeared 100 feet high on the Fox California Theater – though fortunately it was on concrete and not the unprotected limestone. Nero worked with the theater's stone supplier and installer, Jose Ayala, of San Francisco-based Carrera Marble of America, to successfully lobby ELS Architects for full coverage.
Graffiti protection began on the old theater's north side in June. Wearing standard safety gear – safety goggles, rubber gloves, protective clothing and a hardhat, Mejia used a Hudson pressure-sprayer to apply Graffiti Barrier S.
It went on thinly, he said in 5-foot by 5-foot panels at 40 – 60 psi. He then went over the treated limestone with a foam roller – twice.
"Although it's a surface treatment, you still have to work it into the stone," Mejia said. "And you have to be careful about runs and drips. If you don't catch them and roller them out, they'll darken the stone when they dry."
Applying the treatment in a construction environment also made a difference, he said. Working around the other trades – much of the time from a telescoping JLG man lift to reach the heights -- Mejia only managed about 300 square feet in a day.
"You can do more if you can work steadily," he said.
On track to open Sept. 18, the newly restored theater will be a Central California showcase for the arts. Though for graffiti "art," you may have to go elsewhere.
"Personally, I don't like graffiti," Mejia said. "I'm glad to be in a job that lets me do something about it."