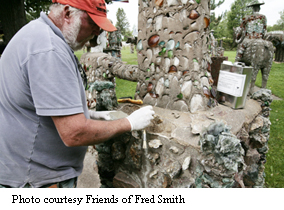 They're primitive and crude, yet mythic and monumental.
They're the 237 sculptures of glass-embellished concrete, made by musician, tavern-keeper, lumberjack and artist Fred Smith, with his own rough, arthritic hands.
On a roadside plot of wooded land in Northern Wisconsin, from 1947 to 1964, Mr. Smith forged his visions of nature, legend and history into the sometimes-strange but always compelling figures of the Wisconsin Concrete Park. You can visit for free, anytime during the day. You'll find the park among the trees beside Highway 13, on the south edge of Phillips, Wis., population 1,500.
There, Paul Bunyan, 20 feet high; and Babe the Blue Ox mingle with concrete horses, deer, wolfhounds, moose, Abe Lincoln and Sun-Yat-Sen. There's an angel, a panther, a double wedding and the Statue of Liberty - and more.
The park is a gift, Mr. Smith said, quoted by authors Lisa Stone and Jim Zanzi in their book "The art of Fred Smith." He said it was "for all the American people every where."
An estimated 10,000 people each year, artist and layman alike, express their appreciation for the gift by visiting.
Though Mr. Smith died in 1976 - "pretty soon I'm going over the moon," as he told Mr. Zanzi -- his work is cared for by "Friends of Fred Smith." The non-profit volunteer group, which includes Ms. Stone and Mr. Zanzi, formed in 1995 to maintain and preserve Mr. Smith's beloved concrete park.
The park needs maintenance and preservation thanks in part to the rugged climate of Northern Wisconsin. Humid in summer, frigid in winter, the Wisconsin weather fosters nearly every possible kind of deterioration on concrete.
The group used PROSOCO products to clean and consolidate several of the sculptures during summer 2006.
Friends members Don Howlett, an artist and preservationist; Scott Dietrich, photographer; and staff member and college student Ashley Bartelt used ConservareŽ H100 Consolidation Treatment, donated by PROSOCO, to strengthen softening, flaking concrete on the Moose sculpture, Paul Bunyan's Dogs, Hi Ho Silver Horse, Woman and Angel, and the Budweiser Clydesdales.
The trio brush-applied three cycles of H100 onto specific areas of the sculptures. The treatment penetrates deeply into deteriorated masonry, stone and concrete. An internal catalyst and atmospheric humidity convert the treatment into silicon dioxide, a durable cementing matrix. It replaces the original cement lost to time and weather.
"By sight and by touch, it was apparent the H100 had hardened and strengthened the concrete," said Mr. Howlett, project supervisor. He knew H100 was the right product because he tested it the year before on a similarly deteriorated piece of concrete, and got the results he wanted.
Along with the Budweiser Clydesdales, other sculptures - Sun Yat Sen, Sacajawea, Horses in tableaux, and the Indian entrance posts - needed cleaning. Windborne dirt had collected in sculpture recesses and covered surfaces with a grayish-black patina, Mr. Howlett said.
Moss and lichens also took hold and were busily loosening the embedded glass pieces to where gravity could claim them.
Mr. Howlett, Mr. Dietrich and Ms. Bartelt used Enviro Klean® products BioWash and BioKlean™ to free the sculptures from their dark coatings of growths and grime.
Distributors Henry Frerk & Sons, Chicago; and Builders Brick & Materials, Milwaukee, supplied the cleaners.
The sculptures got a first-round cleaning with BioWash, Mr. Howlett said. The procedure began with gently wetting the sculptures with a garden hose.
"We weren't about to use any kind of pressure on the sculptures," he said.
Next, they spray-applied BioWash to remove deposits of moss and lichens. After a short dwell, the spent cleaner, and the moss and lichens all came off with gentle flushing from the garden hose.
The three Friends next brought the more powerful BioKlean™ into play. BioKlean™ gets rid of embedded biological soiling and dirt. Again, the conservators used spray application and gentle, but thorough water rinsing.
"When we rinsed the cleaner off, you could see the dirt wash off," Mr. Howlett said. "It was quite amazing."
"They went from really bad to really good," said Ms. Stone. "They're lighter and brighter and much closer to their original appearances.
"I love these sculptures," she said. "I love the abstract, visual combination of concrete and glass. They're not realistic or conventional, yet they capture the look of the people and animals of this place."
"Fred Smith was a fine observer," Ms. Stone said.
Why did Mr. Smith build the sculptures?
"Nobody knows why I made them," he is reported to have said. "Not even me. This work just came to me naturally."
You can learn more about the remarkable Fred Smith and the Wisconsin Concrete Park at www.friendsoffredsmith.org. Or you can e-mail Ms. Stone at her daytime job by clicking here, where she serves as curator, Roger Brown Study Collection, The School of the Art Institute of Chicago.